Mystical Intimacy, A Spiritual Companion
When I chose the title: Mystical Intimacy, it just came to me – it landed in my consciousness without much fuss. I knew that that there was no changing it. The subtitle on the other hand came out of trial and error, the support of friends and clients during a vote for the subtitle adventure, and finally it too resonated.
The subtitle is…
Entering into a conscious relationship with your spirit and human nature
Can you imagine the power that lies at the fulcrum point between your spark of divinity and your creation? Just think of what it would be like to embrace the sacred in all things, all experiences, and all of you. Mystical Intimacy is a an invaluable guide for restoring the relationship between spirit and human consciousness. It is a tool for self-realization and soulful nourishment, a resource for you to draw from for support and healing.
The Power of Prayer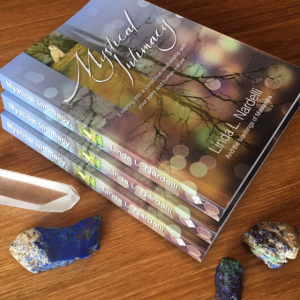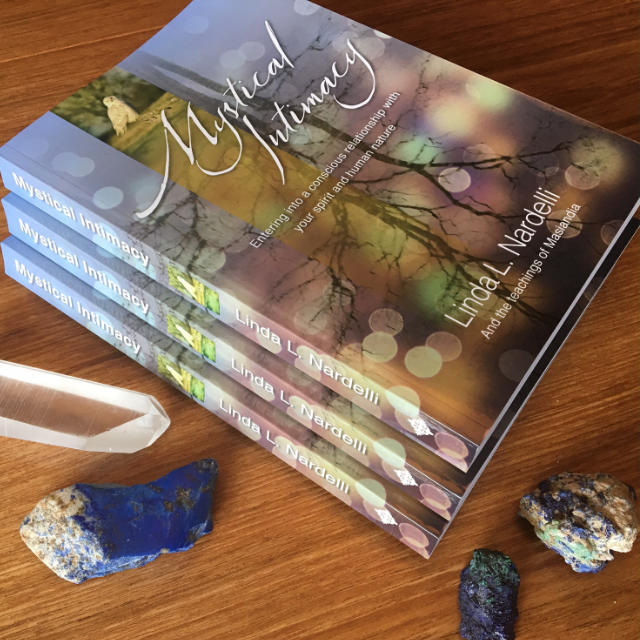 The predominant message of Mystical Intimacy is the power of prayer—the art of cultivating an intimate connection with our longing so that we can receive its guidance and align with possibilities that bring it into manifestation.
Through channelled guidance, Masiandia addresses soul-purpose, spiritual renewal, commitment and faith, and how to cultivate a healing partnership with spirit. Through personal stories, I endeavour to inspire you into a deep connection with yourself so that you can traverse the space between your rational mind and your knowing field, and ultimately enter into a conscious relationship with your spirit my falling in love with your human nature.
What Makes This Book Unique
Many people who read spiritual and self-help books often feel like they fall short of perfection, comparing themselves with the author and the author's viewpoint. They may understand the main principle of the book but not know how to apply it in their lives.
Mystical Intimacy is a spiritual companion with a special gift—an invocation of faith through vulnerable sharing of both my stories and that of people I know: friends, family and clients. My intention is to support you the reader in assimilating the teachings of Masiandia in a way that sustains your natural pace for healing, and bring profound acceptance to your human experience.
There is nothing like being seen and understood, rather than being asked to change. Changing the way we think is a persistent message in today's spiritual and self-help books, but rarely is changing our perception simply a matter of a force of will. It is rather inspired by our longing to know ourselves better. Then it's not a matter of changing for the better, but about being opened to who we are and falling in love with our imperfections as well as our strengths.
Hope-filled Reminder



Both my editors describe Mystical Intimacy as a spiritual companion. It is a hope-filled reminder that we are more than the familiar three-dimensional reality and that we can encompass multifaceted awareness. It is a deep inhalation of faith and guidance infused with love, lifting the veils of disbelief and separation to bring the reader closer to his/her intuitive receptivity and inner-wisdom.
My friend Paul Hood, who read my manuscript for chapter flow, likes to revisit passages in the book to be reminded of the teachings that help him connect to his value and to what's important in his life. He says it brings him both courage and a sense of deeper meaning, as well as returns him to himself. Paul and others who have read the book experience so many aha moments, helping them shift into a more fluid and trusting relationship with who they are and with life.
My content editor, Marni Norwich, said the manuscript was a constant companion for the year and a half we worked together, and that it had served to help her understand herself better and to view life from a broader perspective.
Interestingly, my publisher took longer than he expected to read the manuscript because he kept slipping into trance. The book is steeped in energy healing.
When words are medicine…
Not only is Mystical Intimacy packed with in-depth understanding of spiritual principles, it is a gift of energy medicine – an invocation of deeper truths and an opening of long closed doors.  Mystical Intimacy transmits a higher vibration of energy to help spark an intimate sense of self-value and surrender.

This makes this book not only a source of information but also an invitation for you to learn to recognize and honour your sacredness.
The spirit's energy healing and my relationship with the healing journey makes this book a powerful ally—a way into deepening the alliance between your spirit and personality.
Mystical Intimacy is now available in print and e-book on Amazon
So much more than just words.
Every social activist, metaphysical seeker, or simply someone looking to have a deeper understanding as to why we are on this planet, would benefit from reading this book. Linda's honesty and depth, and the inspired channeled messages from Masiandia are refreshing for the soul and challenging for the mind. Revelation after revelation spill off the pages and into my awareness, far beyond my expectations!
~ Catherine Whelan Costen, Owner/Producer Catherine Publishing
This is not just a life-changing book; it is a WORLD-changing book.
Mystical Intimacy is a guide, inspiration and catalyst toward a new era of peace. Paragraphs phrased with deceptive simplicity brought me face to face with mind-blowing revelations. Reading it has taken me on a journey into the unfolding mystery of awakening to my own Divinity.  ~ Debbi Lang, Tarot Reader and Astrologer

I am very impressed. A big wow!
I just finished the intro and first chapter, all of which I devoured before even getting out of bed today.  Linda is a very gifted writer.  I am deeply moved by all that she has courageously and generously shared in these first three chapters.  I look forward to reading more. ~ Karleen, CPA MTC Life Coach
Save
Save
Save