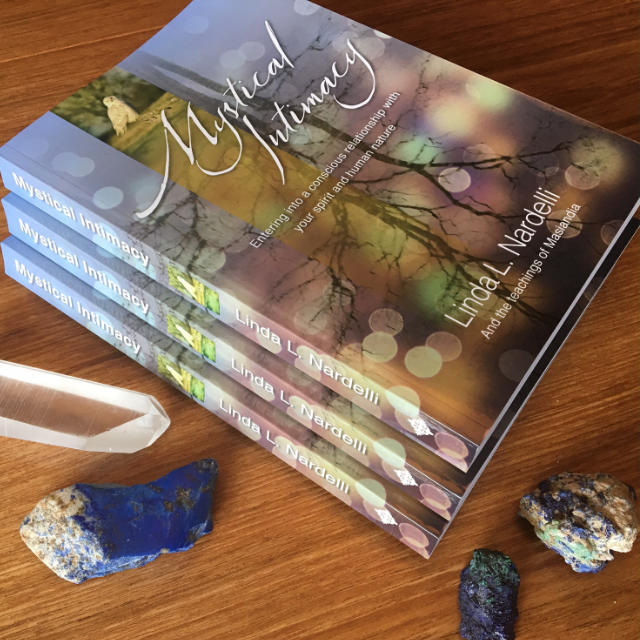 Mystical Intimacy is an invaluable guide for harmonizing the relationship between your soul and human nature.
Steeped in spiritual teachings, this book reveals the inherent wisdom within your thoughts, emotions and felt-senses, and creates a bridge with your soul consciousnesses. It is a tool for you to draw upon for self-realization and healing.
Mystical Intimacy transmits energy medicine and can infuse you with a deep sense of personal well-being. It has the power to draw you into your inner sanctuary of belonging and integrity, and support you in recognizing the sacred in all areas of your life.
People who have worked with me privately say that Mystical Intimacy carries many of the same energies they experience in session. The book speaks in a personal way to every individual who reads it.
"So much more than a book – it is a powerful catalyst for transformational healing and spiritual awakening!"
– Catherine Whelan Costen, Owner/Producer Catherine Publishing

Uniquely written in a co-creative way, I share the channeled teachings of Masiandia with personal life-stores and spiritual psychology.
Every chapter is rich with channeled messages intended to deepen your connection with your essential worthiness. The stories I share bring the channeled messages home and shed light on the meaning of all our felt-senses and life-experiences. 
As an integrative counselor and spiritual devotee, I share a wealth of knowledge and examples to help your rational mind surrender into the energy activation that is eminently part of this book's offering.

"I experienced profound awareness and healing while reading the pages of Mystical Intimacy. This is the most important book of the decade on spiritual attunement. In a time of such turmoil, this book will bring deep transformation and healing to those who read it and will uplift our planet as a result."
– Kala H. Kos, author of Magic Manifesting
This book isn't just for the spiritual seeker – it is for anyone who is looking to improve their life.
In this book you will …
Uncover the rich information that your body is constantly revealing to you through sensations,

symptoms, and feelings.

Discover how every moment in your life is an opportunity to connect with your purpose.

Heal from depression and painful childhood trauma, and restore your sense of worthiness.

Move beyond familiar perceptions of reality into a greater sense of possibilities.
"I started putting the principles into practice right away. This book has come to me at a pivotal time of changing the question 'who am I?' to 'who do I want to be?'  If you're lucky and the Universe has led you here, please don't pass by the opportunity to read this book that can change how you view all of life."
– Julie Annan, office manager
And can be bought directly from
Banyen Books in Vancouver and at
Ambrosia on the Sunshine Coast, BC.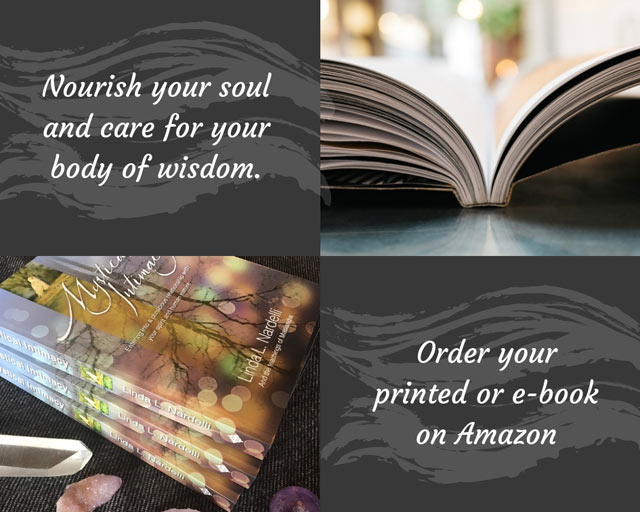 "Mystical Intimacy is a gift I will use for the rest of my life. After working with Linda Nardelli and her spirit guides for many years, I am excited to hold her book in my hands. The wise words of Masiandia interspersed with Linda's healing stories adds a deeper dimension that few authors can boast.  She takes us on a journey into the world of spirituality, learning about both our past lives and our now. Every important aspect of life is explained in great depth, from our existence to pain, grief, healing, acceptance, forgiveness, love and joy; the list is endless."
~ Frances McGuckin, speaker and author of Business for Beginners
"You could open almost any page and come away enlightened. Almost every other sentence is rich with a wise understanding. Linda is an artist and healer and her affinity for this work and her love are apparent throughout."
~ Caitlin Hicks, performer, and author of A Theory of Expanded Love
"The beauty that emanates from the book is extraordinarily human and encouraging. Through the transparency of Linda's process, I was drawn into loving all my life-experiences as they actually are. This book points to honouring and elevating Everything."
~ Blaise Sutton Kennedy, lifestyle coach and foster parent
"Linda's vulnerability and honesty opened my heart and mind, and gave me a new perception of my own personal journey. There are so many pearls of wisdom that I want to read again and again and again!"
 ~ Brian Johnson, accountant
"The book has had a profound effect on my thoughts, my heart, my healing, my understanding of how to love others. It actually calls out to me and I've never experienced anything like it before. Since I've started reading it, I feel the presence of my guides so strongly around me and have channeled some things in a conversation with a dear friend and for myself."
– Prem, spiritual Seeker